If you grew up anything like me, you ate lots and lots of butter. Butter makes it better, Baby! I'm not talking about margarine, Parkay or any of that. I'm talking about B-U-T-T-E-R!
Well, we know that butter is made from milk and milk comes from a cow. A cow has eyeballs and so we should not be eating that on a plant-based diet. So… are we just supposed to do away with butter? C'mon son! No way!
The name of the butter substitute I use is called Earth Balance. It is a plant-based buttery spread (butter substitute) and it is yummy! I use it on my oatmeal, for baking – just anytime I would use butter, I use this. Unlike some other plant-based substitutes this one is really good.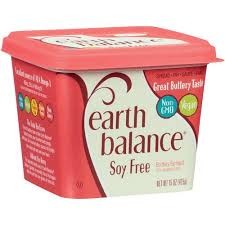 You will more than likely notice two primary varieties of this butter spread – original and soy free. Because my nursing son has adverse effects to dairy and soy, I go with the soy free variety.
Another reason why I go with the soy free variety is because soy has an effect on us women folk and our hormones – estrogen specifically. I encourage you to do your own research about this as I have read articles to the contrary as well. I am sticking with my belief, but encourage you to seek your own truth.
When you go grocery shopping this week, consider trying this good "butter". Let me know what you think. My family doesn't even know the difference. One day I will set a goal to cut back, but right now we are going through one of these tubs each week. I told you I love butter!
Peace.