So, the theme of this blog is to showcase how we as queens rise. I personally, look for the lesson in my trials and tribulations. This new quest to return to the freedom of entrepreneurship and explore this calling that the Creator has placed in my heart has been quite the journey.
With any business, the fun part for me is identity. The logo, colors, tagline – they are all so important. With my first business/blog I did all of those things myself (and of course with some Divine Intervention) and at one point sought the expertise of my then boyfriend (now husband) to embellish the logo a bit for me. He is a beautifully talented graphic designer.
This time around, I asked him if he would create a logo for me. Well, not exactly. It really wasn't that simple or clear. You see, I tend to get super excited about my dreams and ideas. When I am in that zone I want nothing more than for my husband to be just as excited as I. Well, it doesn't really happen that way! LOL! After telling him about the three business ventures I wanted to start, I summed it all up with "Will you create a logo for me for Queen Rising?".
Of course he was overwhelmed, confused and curious as to how I would get three businesses off the ground and still be able to maintain our time, family time and of course our agreed upon household responsibilities. He even asked me which business would I focus on first? How dare he bring logic into my dreams?! The horror!
Because that is not what I wanted to hear, I had a little moment and simply told myself that I would do the logo myself and that I did. I told myself that I did not want his energy anywhere near my endeavor because it came across as if he didn't believe in me anyway – asking those logical questions like that!
I created my logo, bounced it off of a few close friends and decided to move forward. As I worked to configure this blog and create more content I soon discovered that I had lost my touch. I no longer knew what I was doing in terms of logo creation. My logo did not scale. It just didn't work anymore. I prayed.
What was revealed to me was that I would not be who I am had it not been for the experiences I have shared with my husband. Through our experiences, I have been forced  to "…seek the kingdom", grow, face/conquer challenging situations and more. His presence in my life has been nothing short of on purpose. If this is truly my life's purpose, how could I exclude him?
I humbly approached my husband and asked him if he could create a logo for Queen Rising. I gave him complete creative control, provided him with a summary of what this business is all about and told him that I was feeling gold lately.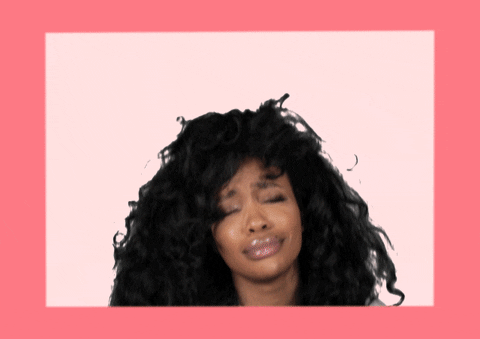 He came up with this!
Yall, I fell in love immediately!
Lessons Learned
Ask for help. We are not meant to do this all alone. The dissolution of my first business came about because I was not trusting enough to ask for help in the form of trusting more stylists. I was my salon. Because I did not ask for help I found myself stressed and oftentimes resentful. The thing is…I did it to myself.
Be clear. Sometimes we have to know when to be quiet. In my excitement, I said wayyyyy too much – so much so that I confused (and slightly frustrated) my husband.
Questions are not equivalent to dream-crushing. As a dreamer this can be difficult depending on the phase of manifestation I am in. In the initial phases I just want folks to yell and scream with me about the idea and possibilities. The beautifully logical person that I call my husband could not get past the three business ideas and began to inquire.  In hindsight it was for my own good and I am grateful.
If a logo can be elevated with those three lessons, imagine how that applies to other areas of our lives.
Peace.